Vanbooven Arborists pruning one of the largest, oldest
Pin Oaks in Prairie Village.
This massive Pin Oak was recognized by the city with a plaque, presented to the homeowner,
designating this a champion tree of Prairie Village.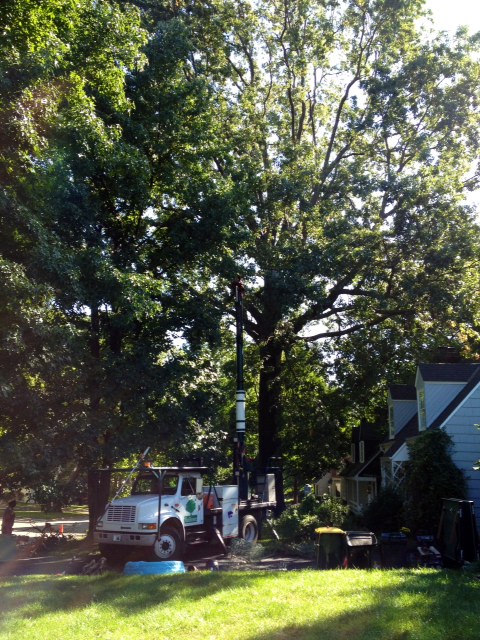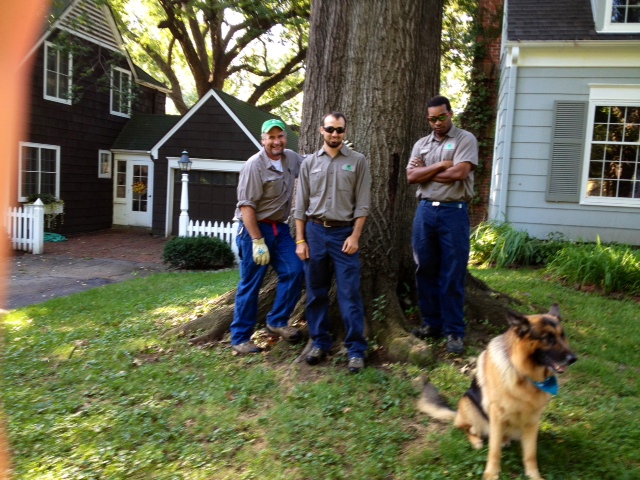 Pictured to right is the crew that pruned the Champion Pin Oak-
From left-Certified Arborist/Foreman Chris Brewer
Middle-ISA/KAA Certified Arborist and KSU Horticulturist Nick Becker
Right-Ground Crew -D'Angelo Hicks


Street Tree Pruning Project
City of Prairie Village Fall 2012

Vanbooven Tree Care was awarded a contract to
prune city trees in Prairie Village.
We look forward to another opportunity to display
proper pruning techniques in the area we will be working.

Pruning Project in Loose Park!
VanBooven Tree Care was selected (in an invitation only bid)
to prune trees in historic Loose Park. This iconic Kansas City
park is also designated as an Arboretum, home to some
rare and champion trees. We feel honored to have received the work and
the trust involved in caring for these fantastic trees.
One of the most interesting aspects of this job is trees are to be left in
as natural condition as possible- what a refreshing idea!

Pictured Below-Champion English Oak, freshly pruned.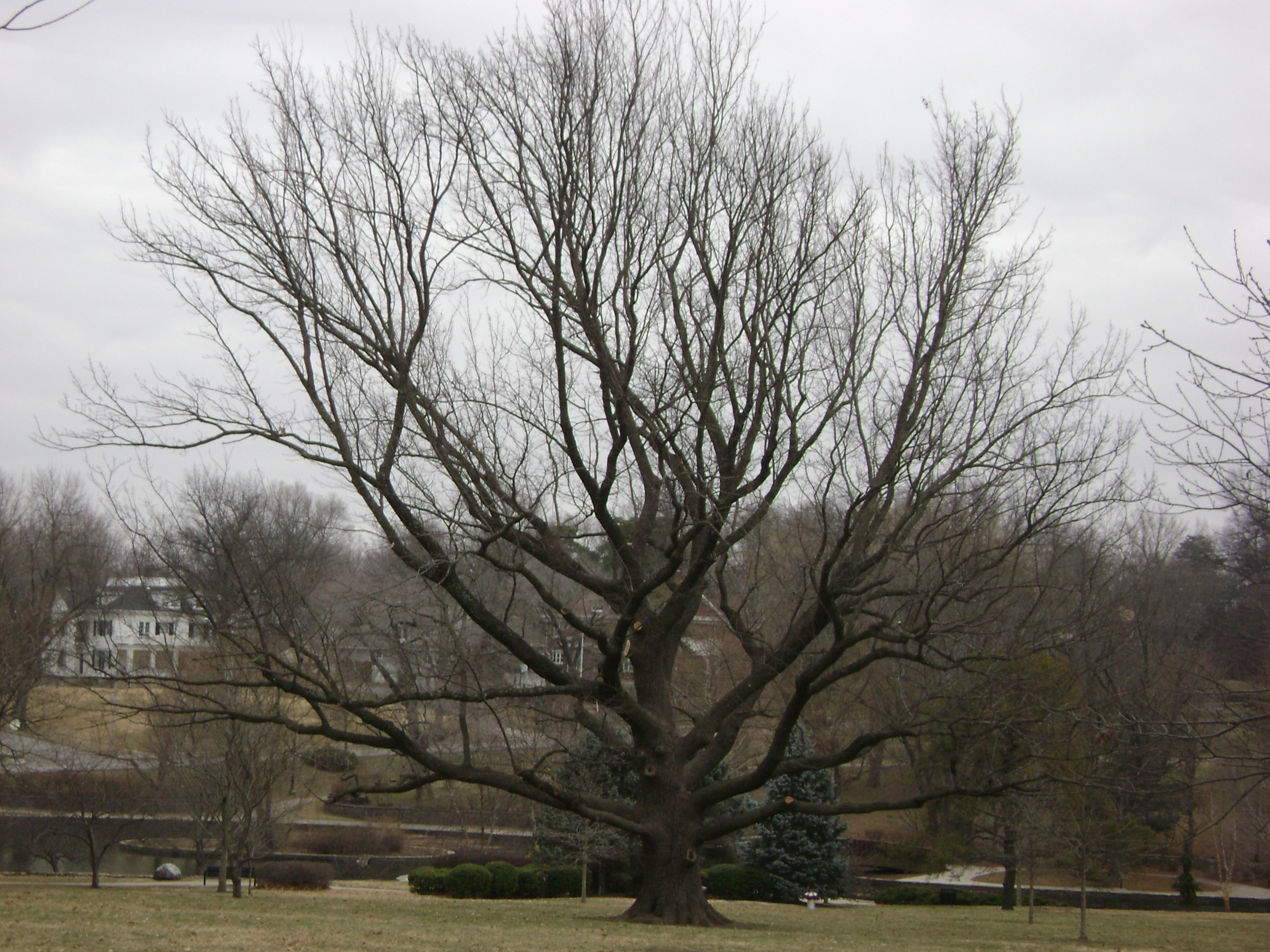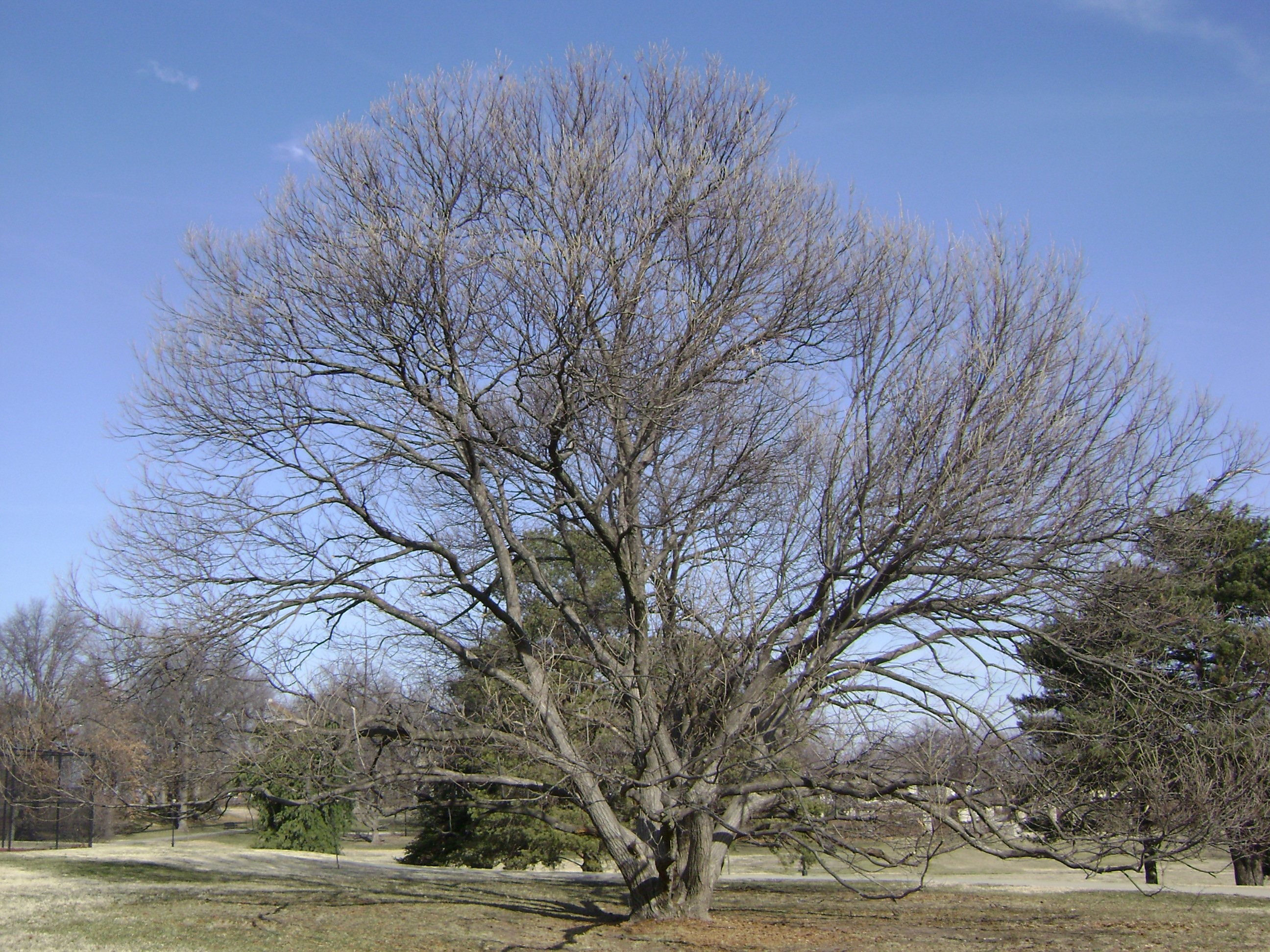 Above left - Close shot of a Chinese Chestnut, a rare tree in our area. Right-Pair of Chinese Chestnut trees.
Pictured below- a stand of Amur Corktree.


Summer 2011
New Bucket Truck!

Aerial Lift of Connecticut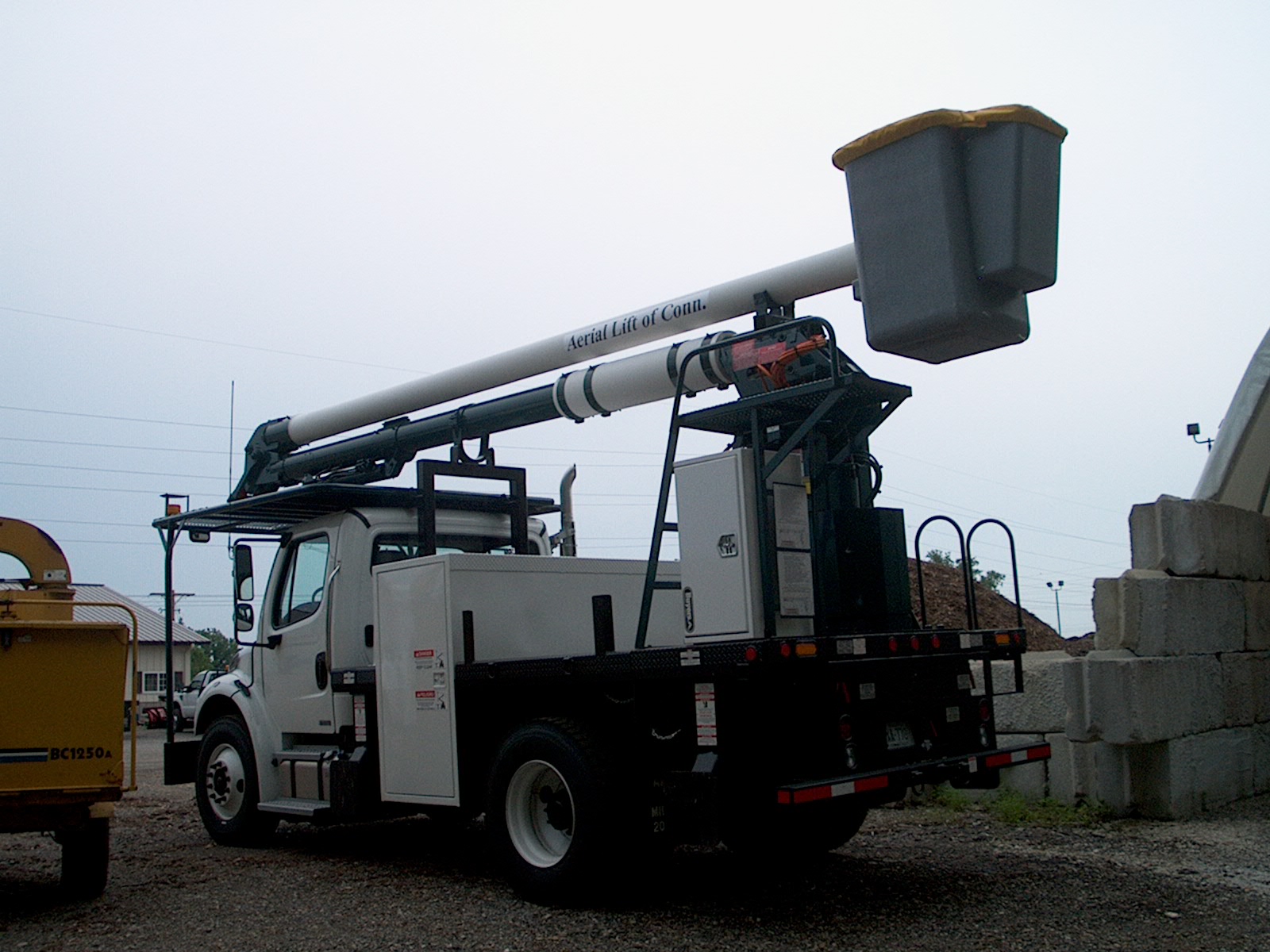 KansasArborists Association Day of Service
This year's day of service was held Friday, May 6th at Stagecoach Park and the historic
Mahaffie house in Olathe, Kansas. Local Arborists associated with the KAA donated their
skill, time and equipment to do much needed pruning on mature shade trees.

VanBooven Arborist Sergio Herrera pruning mature Oak in Stagecoach Park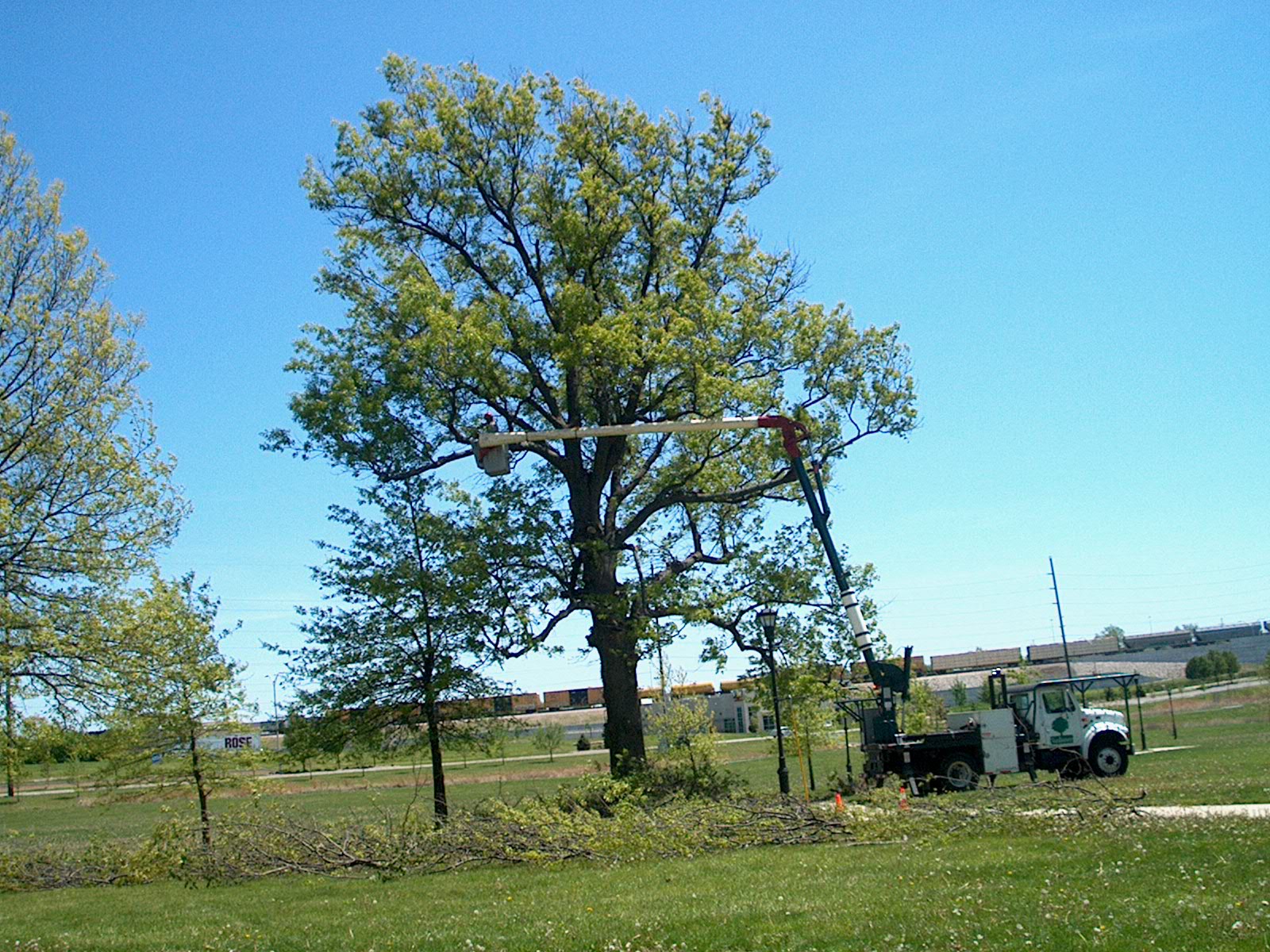 New Claw Truck-November 2010


When it's time to trim, leave the big projects to the pros-
Vanbooven Arborist John Cox in Oak-From Kansas City Star, Sept 26, 2010
*Title and picture courtesy of Kansas City Star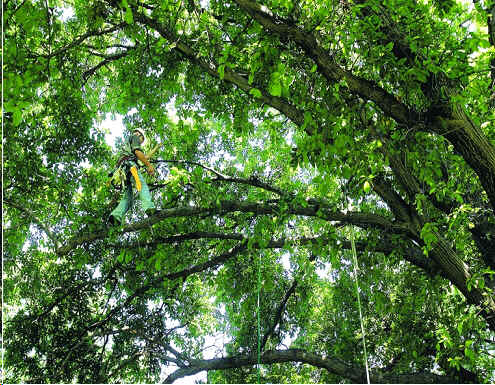 For those of you who may have missed it, The Kansas City Star published a great article in late September of 2010.
The article featured pictures of Vanbooven Arborist John Cox and had several quotes from Vanbooven Arborist Brad Hatfield, taken from an interview.
The article itself was well written and explained the importance of hiring Certified Arborists to ensure work is done safely and to Arboricultural standards.
Evidently this story struck a chord with people-
An interesting thing happened soon after the article was printed in Kansas City.The article went NATIONAL and was in newspapers in 12 states.
Even more amazing, it was in newspapers in Canada, British Columbia and was mentioned in online media in London England.
Because of the fast pace of online media, blogs and social networking, this article is now linked to gardening websites, tree care websites and numerous blogs.
It's amazing how fast a good story can spread these days.
The nice thing for us is regardless of where people live, there is a growing awareness of the value of trees and the importance of hiring professionals to care for them properly.


Spring 2010-Storm Cleanup
Taken from Kansas City Star-Online Edition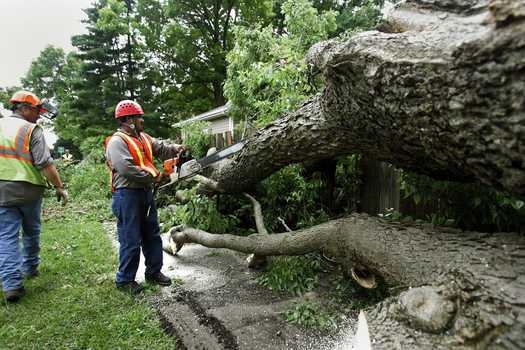 Storm cleanup was underway as Sergio Herrera of VanBooven Tree Care worked on a fallen Hackberry tree Monday at 68th Terrace and Mission Road in Prairie Village. The giant tree fell, which smashed a privacy fence, during storms Sunday night. "This is the worst I've seen today, " said Chris Brewer (left) of VanBooven Tree Care, who was on hand to help with the Hackberry tree. Photo by Tammy Ljungblad/061410



Crane Removal for Prairie Village-Fall 2009
Foreman Chris Brewer removed a 90 foot Oak with Ganoderma (root rot) for the City of PrairieVillage. Some of the logs weighed 5,000-6,000 pounds.
This is actually a very safe and efficient way to remove large, hazardous trees.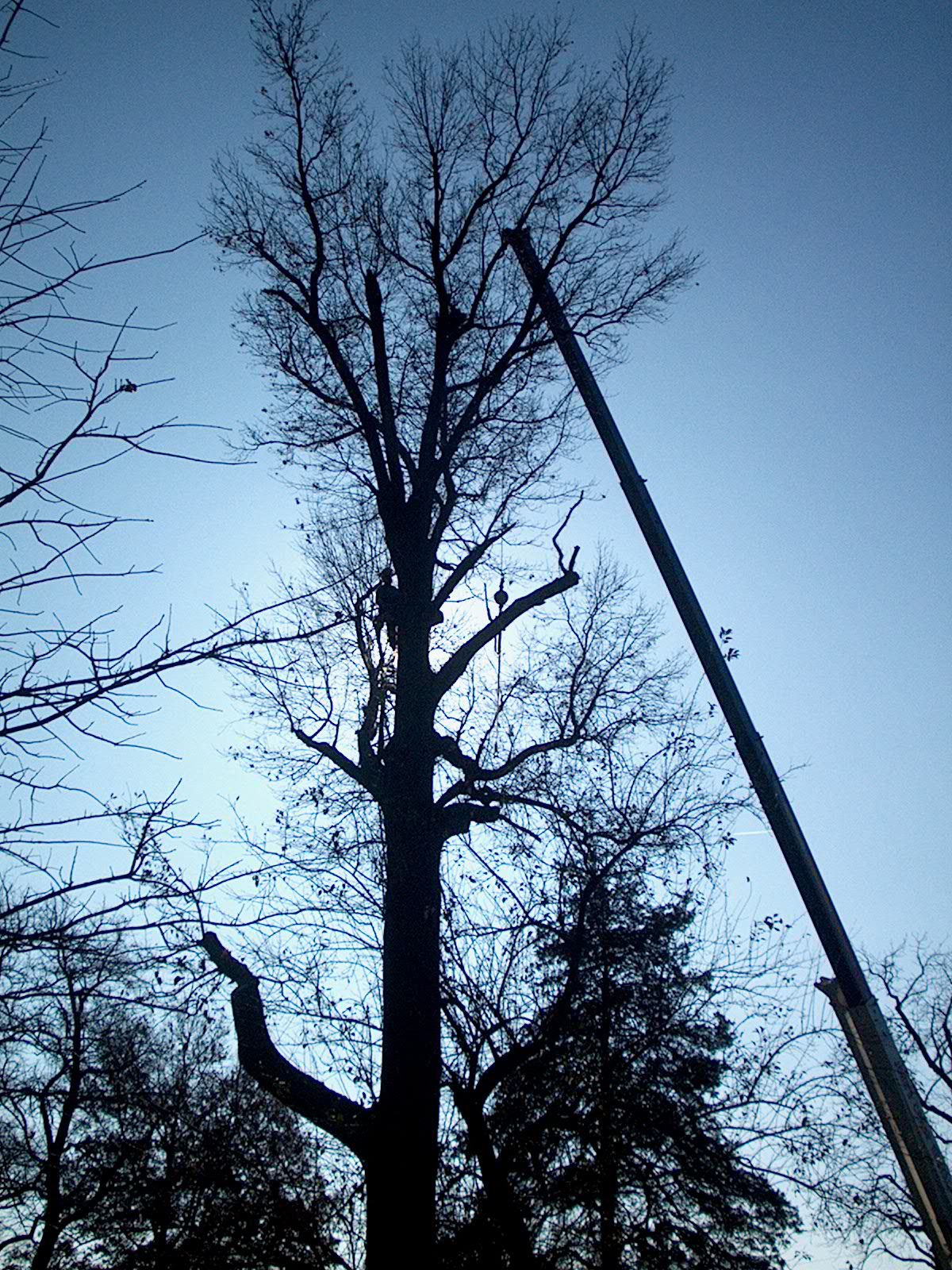 Summer 2009
VanBooven Tree Care has begun working with the
National Park Service to protect historic Elm Trees.
We are currently treating for control of Dutch Elm Disease
using macro-injections with Arbotect.
We evaluated and treated 2 massive old Elms at
Fort Scott, a National Historic Site,this summer.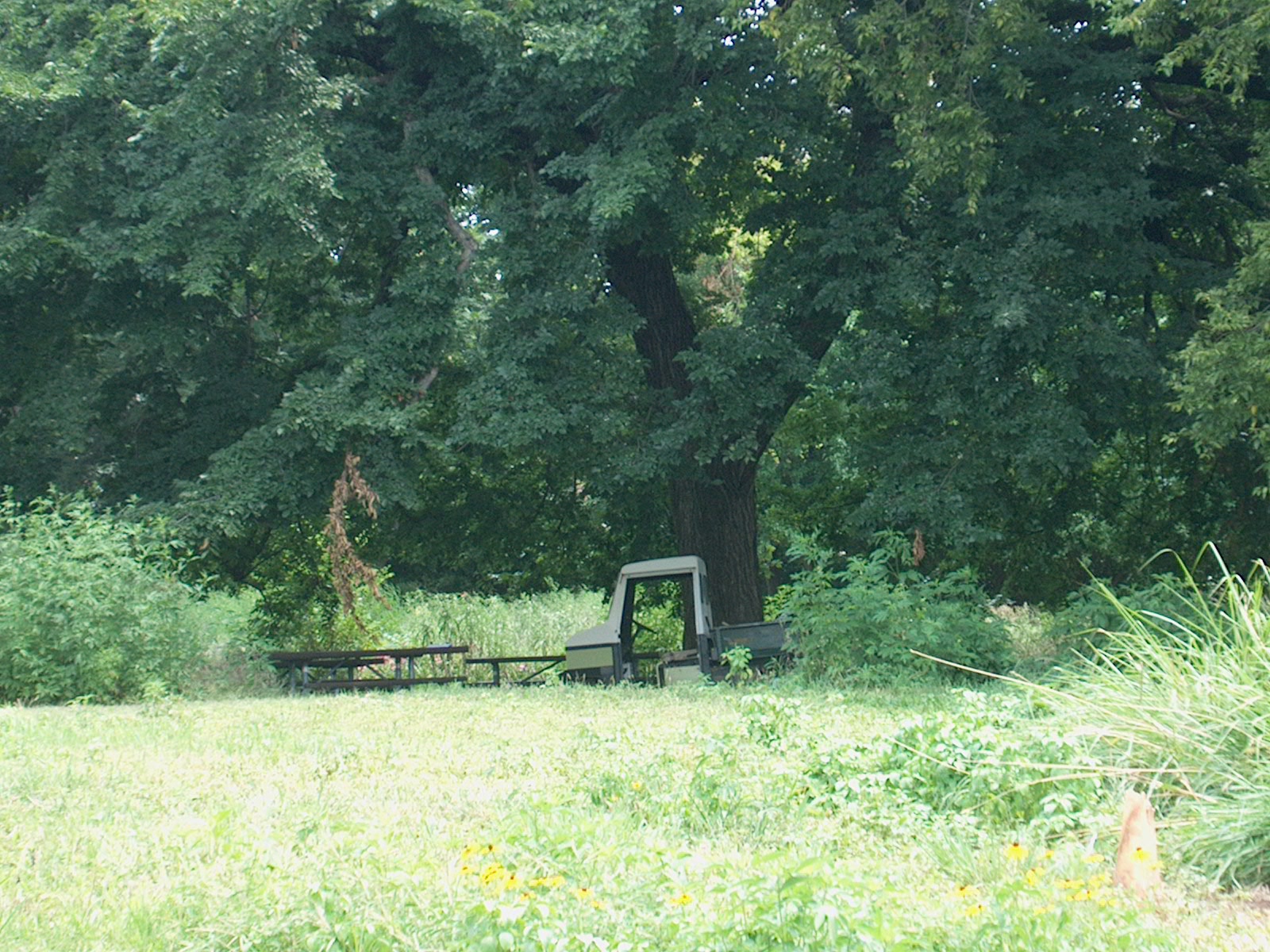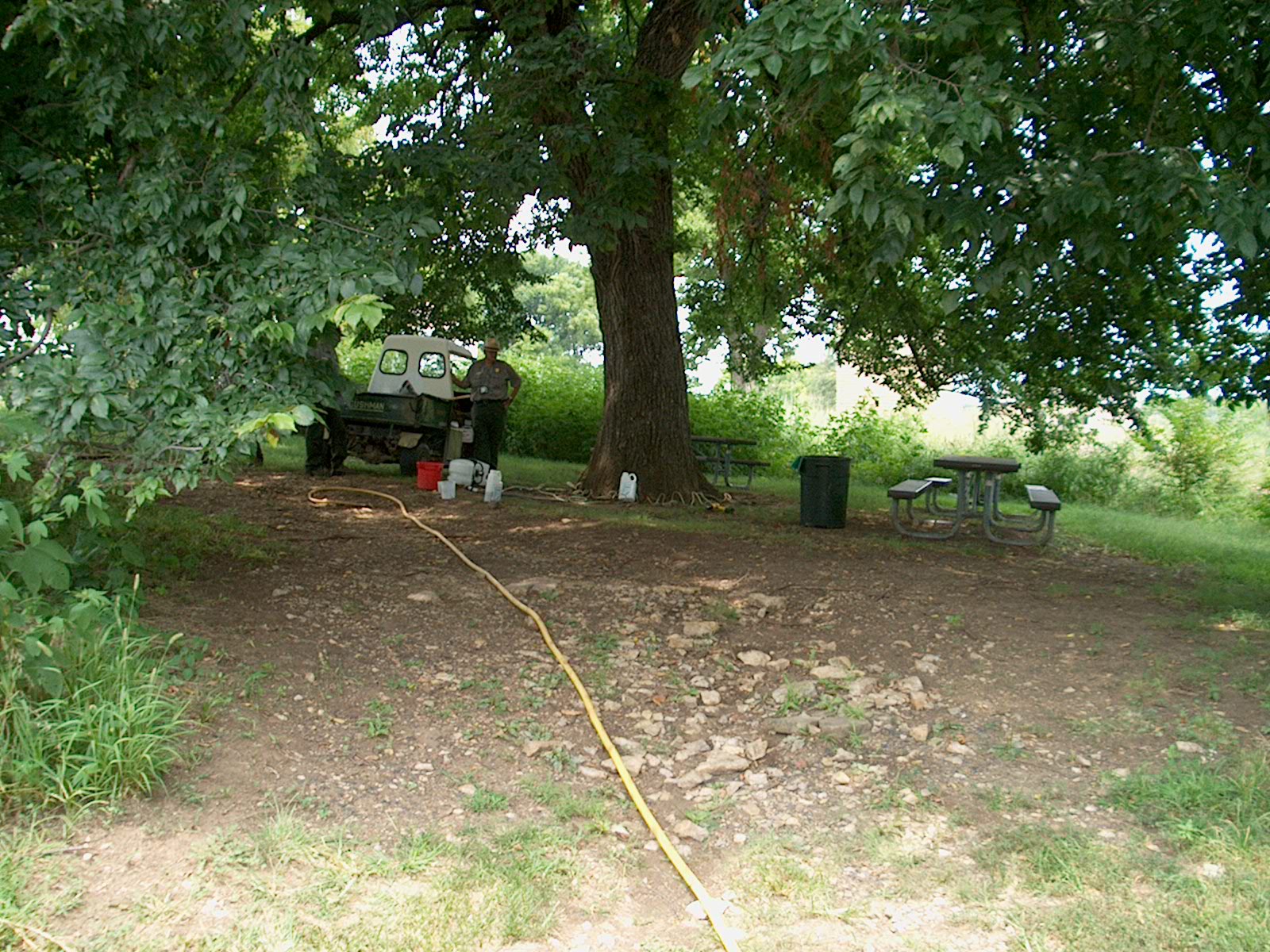 Two very old survivors- 2 American elms treated in Summer 2009 by Greg Vanbooven.

Winter-Spring 2009
Street Tree Pruning in Roeland Park-2009-2011
Vanbooven Tree Care has been awarded the 3-year contract for
street tree pruning in Roeland Park.
We look forward to another opportunity to provide professional pruning
services and consultation to the city.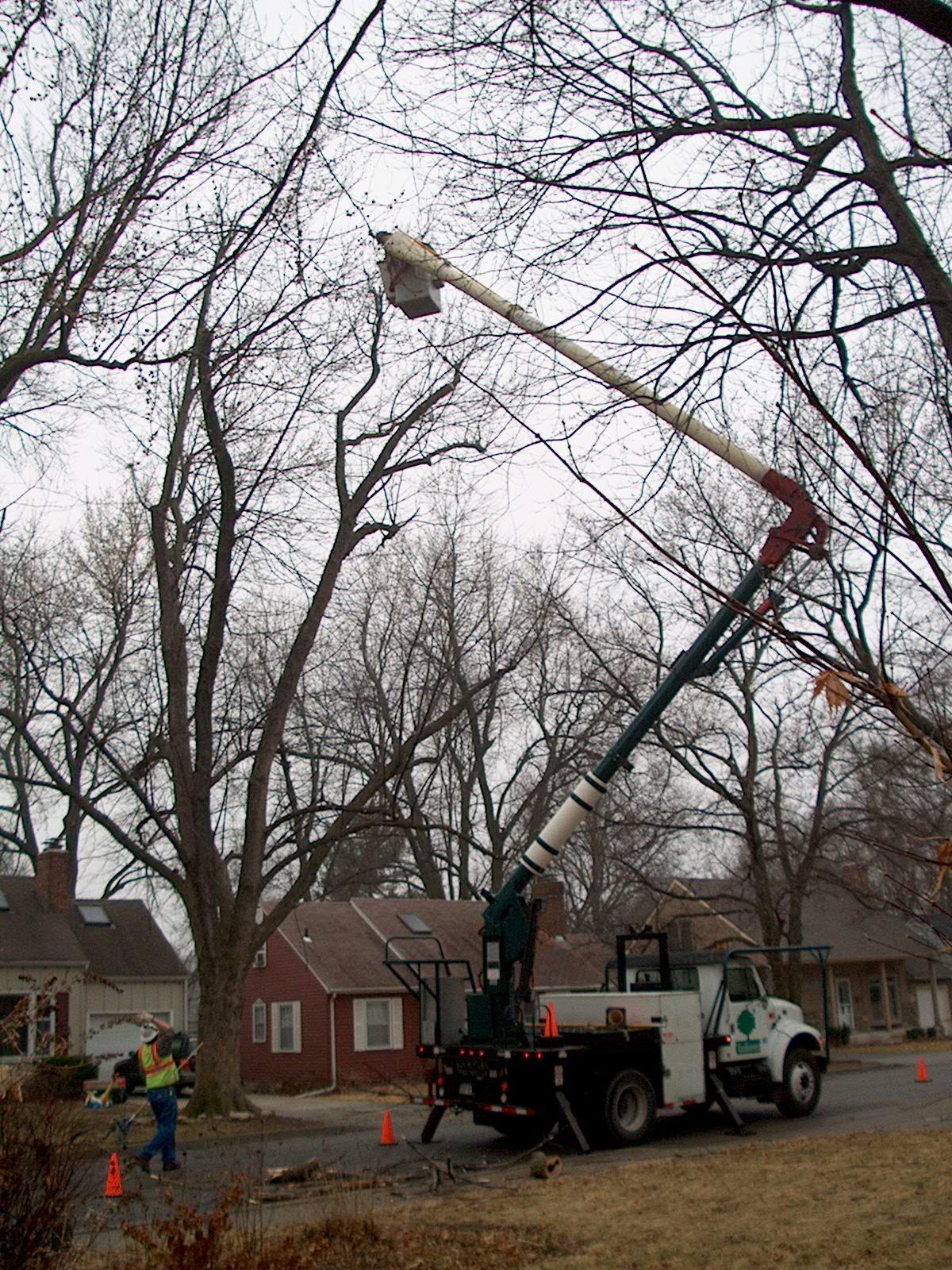 2009 Street Tree Pruning in Roeland Park

Kansas Arborists Association-Day of Service
On Friday, December 12 2008, VanBooven Arborists joined
other members of the KAA at the historic Rice-Tremonti Home.
The Rice-Tremonti home is an 1844 Homestead on the Santa Fe Trail.
KAA Arborists performed much needed work-removing hazardous trees
and pruning multiple large, mature trees.
This project once again demonstrated the professionalism and dedication
to public service the KAA is well known for.

August 18, 2008
VanBooven Arborists save a Bur Oak in Bonner Springs

A Bur Oak at the historic Fredrick House in Bonner Springs, Kansas
has a split down the middle of the trunk. This particular tree
had been estimated to be over 300 years old.
The property owners spoke to several different tree care companies, but
they all wanted to remove this historic specimen tree.
VanBooven Arborists have finsished cabling and pruning this magnificent tree.
We have done everything we can to save this beautiful old tree.


VanBooven Arborists removing large, hazardous deadwood.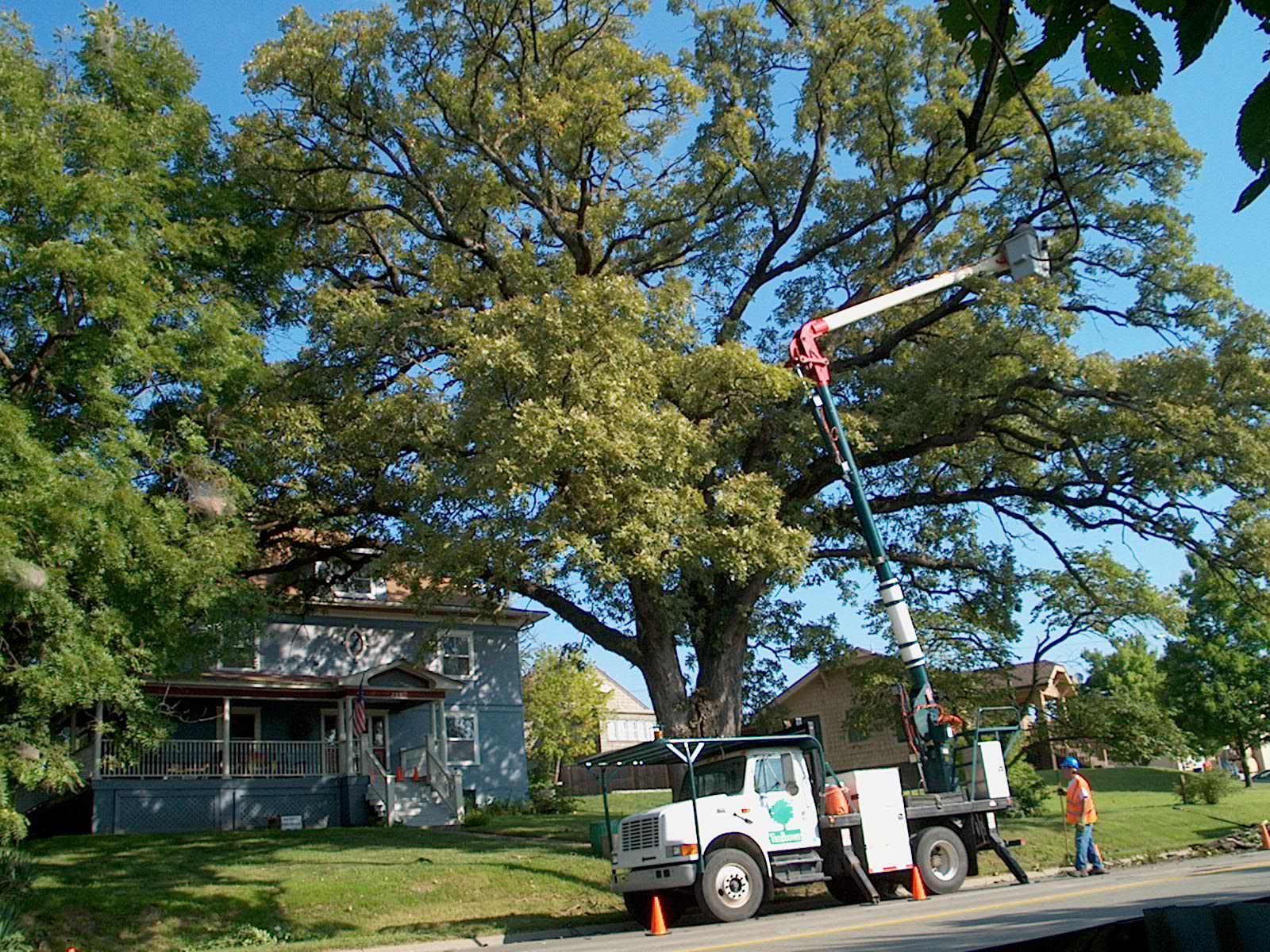 Pictured below-Installing 6 steel cables.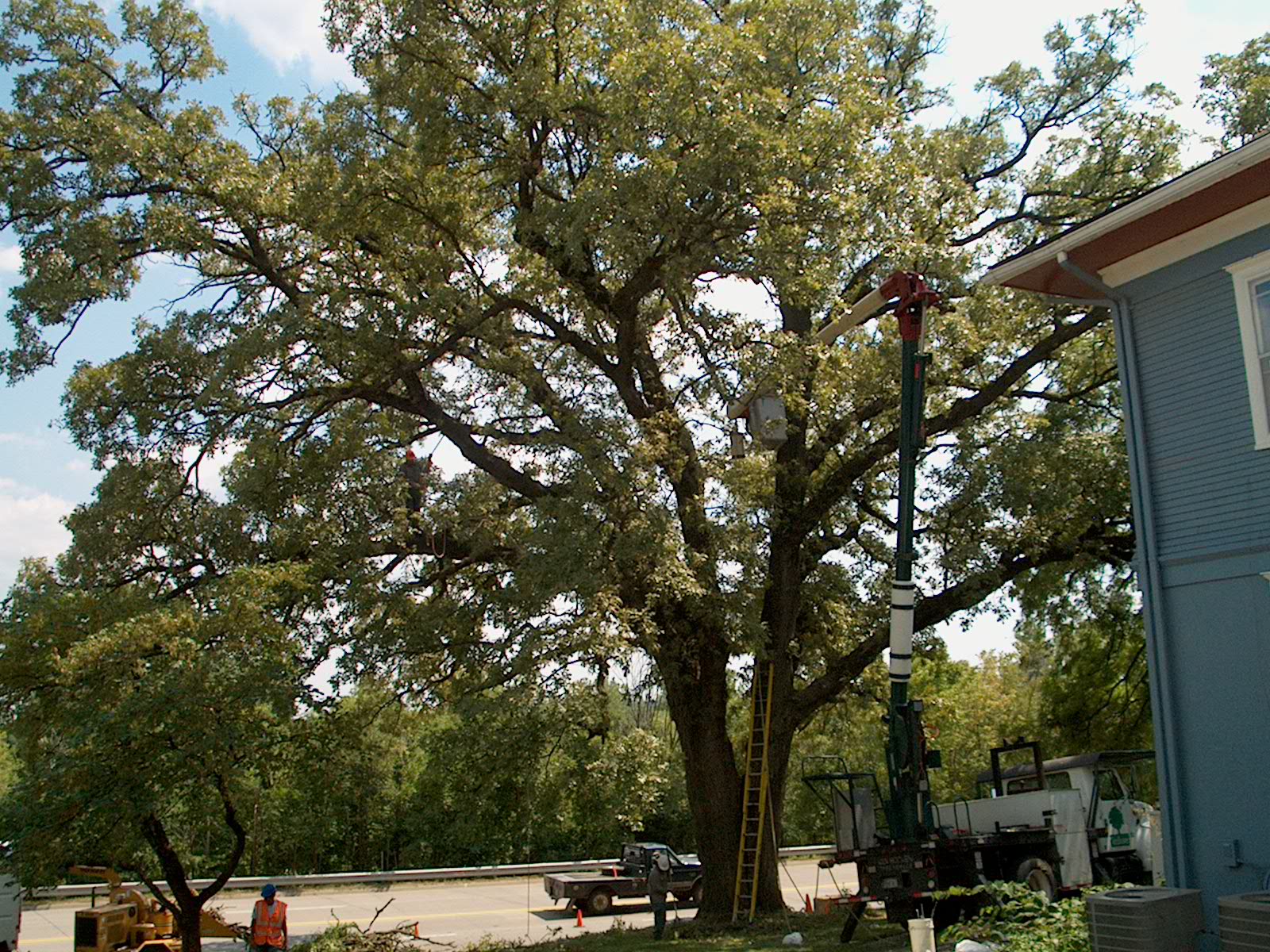 We have completed a street tree contract in Roeland Park
and are nearing completion of a separate contract for street trees in Prairie Village.
Thanks to these communities for improving the health and safety of the Urban Forest. Thanks for trusting us with their trees!


Street Tree Pruning Contracts
We have a current project in Roeland Park and work
pending in Prairie Village. Both contracts are for street trees.


February 2008
Our New Facility is finished!
We have officially moved in.
This Morton building is awesome.
Left photos-summer of 2007, Right photos Winter of 2007/2008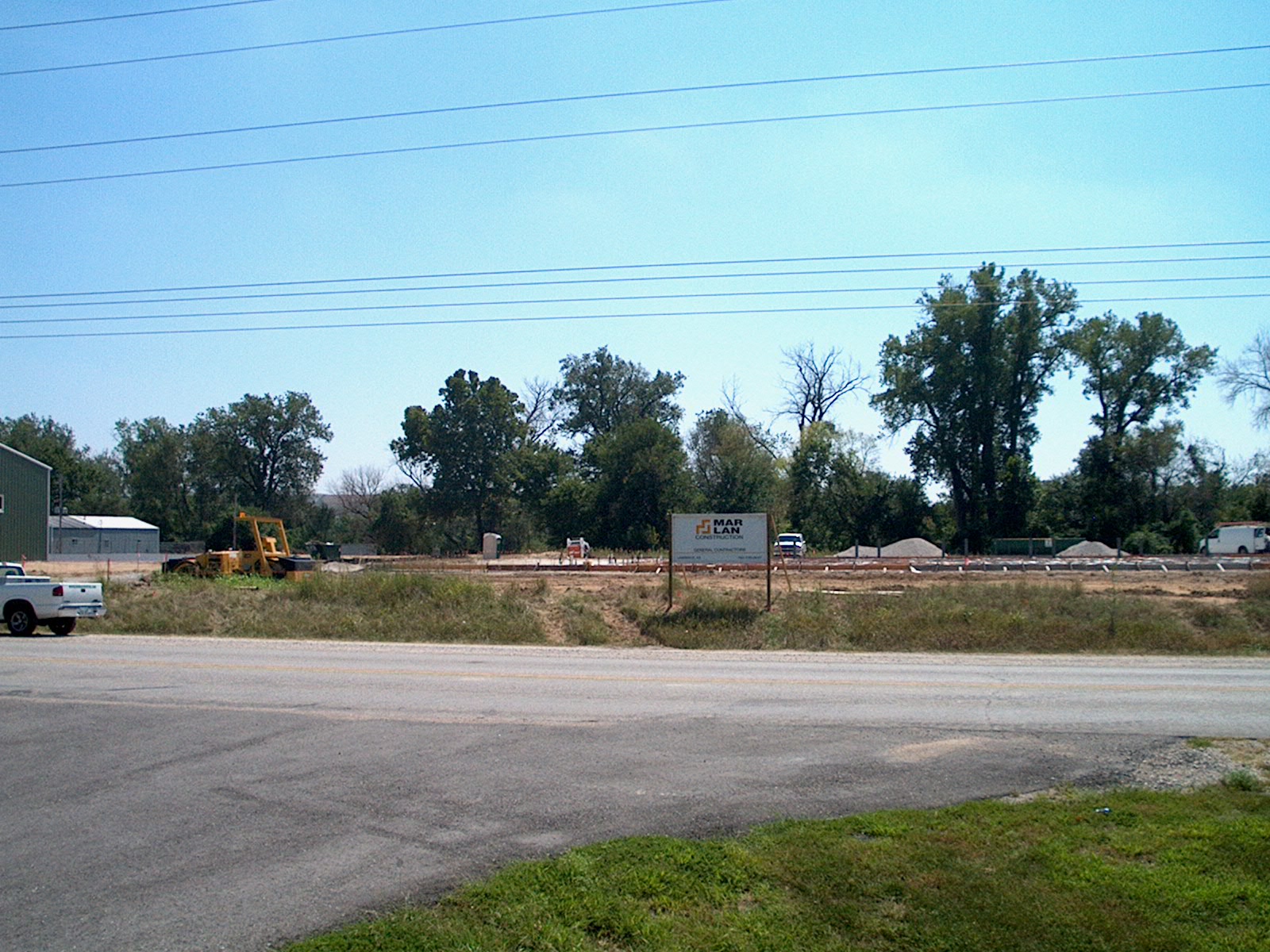 Before and after shots